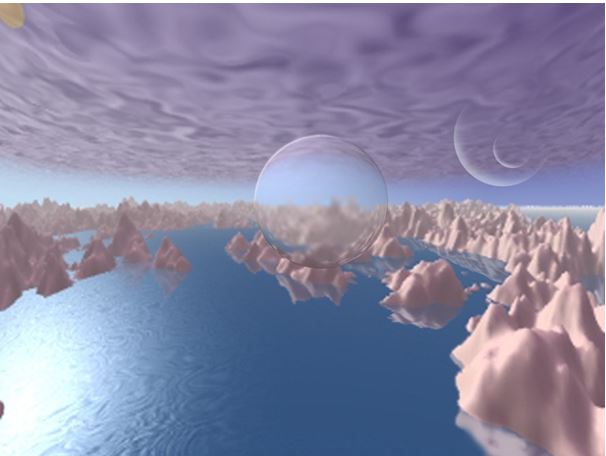 With Ulla Runchel's book
"The Crystal Universe. A Glimpse of Cosmic Wisdom"
we meet an astonishing pioneering research which could
transform our world into a sophisticated science fiction community
in a relatively short time.

The readers are joining the star travels to universes and receiving
a share all the wonderful things radiating out of distant worlds and
conceiving scientific developments soon taking place here.

So, I want you to know more about it - check the following informative review out.
/Ove von Spaeth


On ULLA RUNCHEL's book
Crystal Universe - a glimpse of cosmic wisdom
Review by Joy Persson
Here is an extraordinary book, "The Crystal Universe, glimpse of a cosmic wisdom", that I finally have to read! In her preface to the book the author, Ulla Runchel, says:
"... I can tell the reader that I have known THE NINE for a very long time. Since I was a very little girl, I have always in my consciousness had a special cosmic friend who took me on an exploration into space. A quiet summer when I lay on my back on the lawn and looked up into the sky, my mind slipped into a group of nine. It was a fantastic gentle and loving energy they sent me, I have come up in the crystal universe and into their rhythms of work and got demonstrated many of their wisdoms which I had to write about when the time came. And they showed me the year. ..."
We meet here again THE NINE whom some of us probably remember from the book about Uri Geller. At the time, the time is not ripe. Is it now? Our time is certainly unique.
We have to admit that time is up, and that sensitive people who are open to divine contact get experience out of the ordinary. An unusual book like this should not surprise us - what it of course do anyway! It is so different from everything else you've read, both in style and content.
We're going out on a dizzying ascension in the space to the wonderful worlds of light-emitting crystals, consisting of living, intelligent crystals, and with humans so highly developed that they exude an all-embracing love energy that is directly healing. Here you communicate through the heart and slide through the gentle sound waves carried by the light.
We visit the Wisdom Temple where the whole atmosphere is an overwhelming light symphony of crystal clear, high intelligence vibrating energies. Here are people from many different planets to get wisdom and study, many scientists sat here and researching phosphorescent light that we are going to heal with in the future. We get insight into many scientific developments in the near future here on our planet, including new healing methods which are Ulla's own field.
THE NINE are constantly around her and her accompanying space-friend, and with their help she views and she understands things in a way which she gives an interesting example of:
"… THE NINE came over and gently laid their thoughts around me. I got a crystalline colour spectrometric rush through me, so I fell into their energies and be able to follow in their wisdom thought fluctuations. We were in the "Humanity's development year 2000 and the year 5000 …".
The book contains what is like the three dimensions, the spiritual, the scientific-technical, and future medical techniques. "… We are really on a most ancient stage, what medical science regards …" she says, with all due respect! - "… But the next century will achieve soaring results we already in ten years will enjoy. ..."
Ulla Runchel is Danish and lives in Spain, where she, in collaboration with a Spanish doctor explores the potential of a light therapy PDT, which she has invented, inspired by his insights into the crystal universe. There are so many interesting details about so many topics in this book that you feel you can keep returning to it.
And at the same time as "an adventure that thus is just reality!"
Embark on this star travel and be uplifted. It is glorious reading.
:: Joy Persson,
Ulla Runchel: "The Crystal Universe, glimpse of a cosmic wisdom"
Bogans Publishing, DK-3540 Lynge.
Sent from: The Unknown's Bookstore

CRYSTAL UNIVERSE - a glimpse of the cosmic wisdom: "... A real fantasy book for future-seeking souls, have a good time ...", says Ulla Runchel.

(translation in English by Ove von Spaeth)