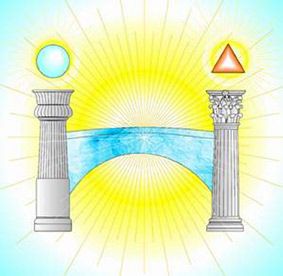 Building Bridges
This day is a special day where we can give each other many heartfelt hugs and lots of love energy, to people we are surrounded with. Deep from our heart.

The more LOVE we sending out, the more we receive.....and lots of many small love spirals, will one day spread love and light, to other love spirals....and one day we will all receive LOVE from each others.

A huge spiral of LOVE on this Valentines Day, isn't just wonderful, we have to hold the LIGHT and LOVE in our heart and keep in there, then we can deal with many, many things..... LOVE is the key, to understand and accept, us self, and when we do that, we can acceptance others. No matter who we are. Where we come from and which religion we may have.
We have to learn and build bridges of hope and acceptance, for each others and learn to understand our differences in the world, we are ALL human beings and we ALL live on the same place, on this Earth, so let us all make billions of bridges to each other, so we can live side by side intogethernesess and learn each others skills and thoughts without fear.
Let us understand the many differences and lets talk together, what we are scarring of, if we can build bridges of LOVE and UNDERSTANDING, between us in the World, we would one day live together with all the bridges we have build, between us, so we can ridges each others hands with happiness, love and light…there will flowing through all of us, in ONE peacefully energy, of compassion and joy and acceptance.
The BRIDGES OF UNITIES AND ACCEPTANCE IN PEACE AND LOVE, will make this world a better place to live in., for all of us.
Lets eliminate the bridges of misunderstand and fear, and build new bridges of acceptance and love, with the huge wisdom we all have and building more bridges full of sharing, we can create new skills in the future from, in togetherness, all of us.
LETS BUILD BRIDGES OF LIGHT, LOVE AND ACCEPTANCE.