Re-discovered ancient tradition reveals that the Bible's greatest prophet was
born as a prospective heir to the Egyptian Throne - but enemies at court and at
the priesthood obstructed his chances of becoming Pharaoh …




INFORMATION ON :
Assassinating Moses (: Ove von Spaeth's bookseries; 5-volumes)

Vol. 1: The Suppressed Record - Moses' Unknown Egyptian Background.

("De Fortrængte Optegnelser. Attentatet på Moses", Vol. 1) / Ove von Spaeth
C.A. Reitzel Publishers Ltd., Copenhagen, 1999.

238pp., illus., soft cover, in Danish.


(Inside of back cover:)
At some time someone had to break through the conventional views and, instead, present the story of Moses in a logical coherence based on the large, often very detailed information about him, which has still been preserved. Eventually, this has happened - and in a refreshingly different form.

This book is based on solid documentary material from a notably large spectrum of also rare sources, besides the Talmud for instance - seen for the first time as a collected whole.

The present re-evaluation of Moses' status and era is to the most impressive extend founded in inter-disciplinary research of the history of ancient cultures. Already, the very material is elementary exciting - and is now made accessible by being carried out in a way that the book also is accessible for readers without education in sciences or scholarly qualifications.

Moses has been the inspiration of novels and films - whereas the data of the sources combined with archaeological facts reveal that his real life-story is the most exiting of all. The status and era of Moses being re-evaluated in this book are founded in inter-disciplinary historical research.

This brings forward some, hitherto hidden, chapters of our common cultural prehistory: Out of the well-known biblical story is an untraditional and stronger Egyptian background brought to light. Two important keys are astronomical dating, moving Moses from myth to history, and the ancient magical rites and mystery plays, whose acting language was lost to readers in later times.


(Cover, back:)
What was behind the mysterious account of Moses' birth?
Is there a hidden encroachment in the earliest Bible-texts?
Was Moses born by Pharaoh's Daughter?
What is the implication of Moses' name being Egyptian?
Why are the first many years of Moses' life not spoken of?

Here, for the first time this untraditional material is collected and presented as an entirety. The Suppressed Record reveals a revolutionizing and hidden attempt on Moses' whole identity as a person as well as a historical character. And reveals his life and position being surprisingly different from what has hitherto been assumed.

In antiquity the episode of "the infant sailing on the river" was a widespread, well-defined ritual for royal children. But was the Egyptians' drowning of children a sacrificial act in the ancient secret, cultic rituals?

Rare sources on Moses handed down through the ages prove to connect with Egyptian tradition and archaeological findings showing them to be mutually related to the Bible, the rabbinical texts as well as authors of antiquity. The dating is based on several sources, especially recovered astronomical data, which might be scientifically tested.

Historical and biblical knowledge concerning the time and status of Moses - to which, hitherto, the lack of sufficient facts have created confusion - can now be re-established. It will contribute to the solution of several puzzling biblical matters. Presenting living historical writing allows the reader the safety of operating hand in hand with the sources.


"...new exiting approaches... A grand synthesis. - One feels enriched as a human being, not just intellectually enlightened, when Ove von Spaeth with unusual insight and understanding explains the religious rationale behind innumerable phenomena of history as well as present time. - Having read this work nobody will doubt the obvious relevance to modern people of studying antiquity...".

Jens-André P. Herbener, Project leader of the new scholarly translation into Danish of the Hebrew Bible (Old Testament)

*

OVE VON SPAETH has a solid basis of historical and astronomical studies. In his many years of intensive studies he has made extensive use of research into archaeology, anthropology, ancient languages, history of religion, Egyptian tradition as well as the teachings of mystery and mythology. He throws new light on the unusually abundant - and controversial - material, also from a holistic angle.





(Inside of front cover:)
"...It might as well be said at once: This work probably renders the most original, and in various ways most well supported offer for an answer to the (Moses) question, within modern research..."
"...The author... has a rare aptitude for passing on an extremely complex and sometimes not very accessible subject matter in a vivid yet logically structured and easily understood manner... it is to be hoped that Ove von Spaeth's book may contribute to marshal new inter-disciplinary standards for future Bible research in general, and for Moses research in particular - nationally as well as internationally...".

Jens-André P. Herbener, M.A. in comparative religion and Semitic philology; Project leader at The Royal Library (Denmark's National Library), of the new scholarly translation into Danish of the Hebrew Bible (Old Testament)

-

"...this work is inter-disciplinary to an exceptional degree, based on extensive and thorough studies within history, theology, archaeology, and history of religion as well as history of astronomy..."
"...With zeal and flair Ove von Spaeth has collected evidence from widely different sources to support his main thesis regarding Moses and his status and place in history. As a historian of astronomy I find the basic assumption of a certain planetary constellation in 1537 BC worth testing in relation to biblical research, Egyptology, archaeology as well as general history... Ove von Spaeth has chosen a vivid style in order to reach a wider circle of readers than mere specialists...".

Kristian Peder Moesgaard, D.Sc., Professor, History of Science Department, Aarhus University; - director of the Steno Museum, Danish National Museum for the History of Science, Aarhus




Publishing perspectives:
Reviews in English of the first volume and an English translation of some of the chapters are presented on the special web site on the bookseries and research: www.moses-egypt.net
Publishers - and translators - who want to publish (the hitherto Danish) editions of this book in English, German, Spanish, French, Japanese and other languages can use this address:

C.A. Reitzel, Bookseller and Publisher, Ltd.,
Norregade 20, DK-1165 Copenhagen K, Denmark
fax +45 33 14 02 70 - phone +45 33 12 24 00 - e-mail info@careitzel.com
Communication address to the author:
Ove von Spaeth, Zenith I.C. Project, P.O.Box 1096, DK-1009 Copenhagen K, Denmark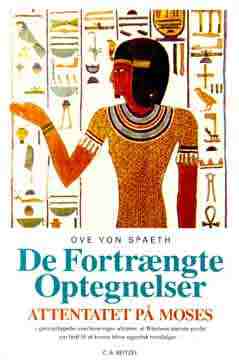 ¤¤¤¤¤¤¤¤¤¤¤¤¤¤¤¤¤¤¤¤¤¤¤¤¤¤¤¤¤¤¤¤¤¤¤¤¤¤¤¤¤¤¤¤¤¤¤¤¤¤¤¤¤¤¤¤¤¤¤

Copyright © 1999 by: Ove von Spaeth - www.moses-egypt.net - All rights reserved
Additional info

VOLUME 1 - inside flaps:

From the reviews on "The Suppressed Records", vol. 1 of the Moses-series :


"...a fascinating, coherent, interdisciplinary depiction of the origins of the prophet...the Danish independent scholar and polyhistorian Ove von Spaeth, who after a supreme effort lasting many years may convince us that he has traced the origin and subsequent life history of Moses in a true deluge of sources ... With nothing less than formidable control of historical developments and interaction within the Mediterranean region and the Near East, Ove von Spaeth pieces together a profoundly fascinating puzzle that may very well turn out to be a true portrayal of Moses and his life ...".
- Steen Voigt, science editor, - Berlingske Tidende



"...a Danish researcher attracts the attention and enthusiasm of several historians of religion... a feat comparable to a voyage of discovery. Yet not a voyage exploring the far reaches of the earth, but one that delves into the missing layers of history - a voyage that demands discipline, formidable knowledge and a brain like a multi-gigabyte hard disk ... Studies like this one that rivet the attention of others than the author and his family are rare nowadays ... His books may be the last Danish scientific bestseller in this millennium ..." (1999).
- Flemming Chr. Nielsen, B.Sc., author, - Jyllands-Posten



"...broad vision and a proper perspective. ... I have greatly increased my knowledge of the ancient Egyptians and the very diligent Jewish writers in this book, but I am unable to verify the rabbinical placement of Moses. I am profoundly impressed by Ove von Spaeth's vast knowledge ...".
- F.J. Billeskov Jansen, Ph.D., Professor, formerly of the University of Copenhagen, - Politiken



"...well documented from start to finish ...this researcher is capable of working open-mindedly with great breadth of view and coherence ... A copious breakthrough rarely seen before in Moses research ...A unique cultural-historical store of knowledge ...".
- Jens Jørgensen, M.A., historian, former external history examiner at the Universities of Copenhagen, Aarhus and Odense, - Frederiksborg Amts Avis



"...dating of Moses: from an astronomical viewpoint, I feel that the basis is worth testing in relation to research and history ... deserves recognition outside Scandinavia ...".
- Kristian Peder Moesgaard, Ph.D.Sc, Professor, History of Science Department, University of Aarhus



"...What makes the tale believable is the extent to which von Spaeth has been able to assimilate a vast amount of information from a wide variety of sources, utilising research into Hebrew, Egyptian and other contemporary language documents ..."
"...This handsome volume - anyone with a non-specialist interest in these far-off times from a religious or historical perspective will enjoy having this volume at hand ... Deserves an English translation so that it can be appreciated and argued about by a broad international audience ...".
- Richard M. Stern, Dr.rer.Nat., Copenhagen, - Swedano Journal



"...Rarely has dating been so clearly defined or the implications so fully underpinned in such meticulous detail. - A presentation of detailed arguments and painstaking analyses that contradict predominant theological trends. ... will encourage new breakthroughs and corrections for a long time to come ...".
- Rune Engelbreth Larsen, M.A. (History of Ideas; Religion), - Faklen Journal