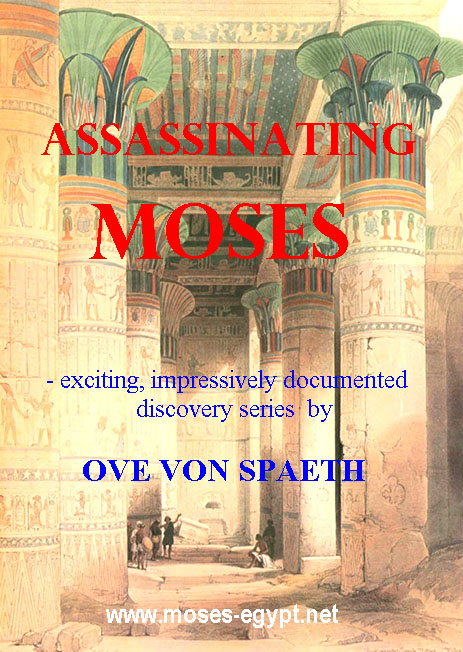 Surveying the book-series about historical Moses

By OVE VON SPAETH

It has appeared necessary to obtain, in a gathered form, a fast surveying on the - comprehensive - content of my book-series' 5 volumes about the historical Moses. Below, this is now being presented in short. - However, firstly Ulla Runchel's inspiring introduction to the series is presented (reproduced by permission - and is from her own web site: www.forvandlingskuglen.webbyen.dk . - Further below, the individual summaries follow.


Rejoicing in Enthusiasm

By ULLA RUNCHEL

copyright © 2004 - www.forvandlingskuglen.webbyen.dk

OVE VON SPAETH has made a MASTERPIECE - even 5 books about Moses, - the books I can recommend WARMLY.
This author guides us into an exiting and compound time travel, which is so complete, carried through in choice of words and research in ancient writings, star maps, and papyrus scrolls, and with lots of surprising info, that it takes your breath away while you are following "the golden thread" all the way through all the books until you have turned the last page. A travel into present of the past - by these books you can be "buried" in the consciousness via the narrating historical panorama, which the author is leading us into. A presentation, which even penetrates enigmatic mysteries, making the reader rejoicing in enthusiasm.
Ove von Spaeth enchants us with a great primeval knowledge transformed into a present time language, so that everybody is able to join in, many thousands of years ago, following MOSES' travel of wonders into several levels. - A masterpiece, which simply must be read - and even read several times while the books reward us with further profit. Really, it would be a fine intention also to use the hole book-series in the school, because the language is so worked through and written so precisely in order to be unmistakeable and make clear the greater and often very surprising coherence of the historical course. The children of the future would have, at their task of learning, a great benefit by reading this material and here, by working with the sense of the language, as a base to practice communication.
Information concerning the works of Ove von Spaeth, author, historian, independent researcher - look into: www.moses-egypt.net ,
- also presented here is his solution of the enigma connected with Egypt's most ancient star map: www.moses-egypt.net/STAR-MAP_s0.asp .


Ulla Runchel, researcher of the future, author - www.forvandlingskuglen.webbyen.dk - & - www.ulla-runchel.com - (27.Sep.2004)



A view - "Assassinating Moses"

By OVE VON SPAETH
www.moses-egypt.net

The Enigma of Moses - re-evaluated! The historical Moses, his fate and mystery is brought to light, for the first time with its full, dramatic course of events. Neworientating discoveries concerning Moses and his true status and time. The controversial finds influencing history and have extensions to our present time.
The reader is taken out on an exiting expedition of exploring within scientific studies in Egyptology, religion history, bible analysis, archaeology - all demonstrating Moses through new surprising angles of incidence. And in addition you are given insight into ancient Egyptian mystery cults and initiation rituals, and the traces of Egypt's spiritual impact on the laws of architecture and picturing arts in expression of the shaping.


1) The Suppressed Record
Moses' Unknown Egyptian Background
Re-discovered accounts in the very ancient rabbinical texts and i Egyptian sources reveals that the Bible's greatest prophet was born as a prospective heir to the Egyptian throne - but enemies at court and at the priesthood obstructed his chances of becoming a pharaoh. Everybody know about the tradition about Moses being found by Pharaoh's daughter among the bulrushes at the bank of the Nile - but was he just a myth? Or have important parts of modern biblical research committed "murder on history"? The book shows how biblical enigmas now can be brought to their solutions.
"... One feels enriched as a human being, besides being intellectually enlightened ...",
- J.A.P. Herbener, M.A. in comparative religion and Semitic philology

"... With nothing less than formidable control of historical developments and interaction within the Mediterranean region and the Near East. - Profoundly fascinating ...",
- Steen Voigt, - Berlingske Tidende

THE SUPPRESSED RECORD - Assassinating Moses, vol. 1
- in Danish, 2. updat. ed., 238 p., illustr., DKK 248,- ISBN 87-7876-124-7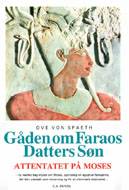 2) The Enigmatic Son of Pharaoh's Daughter
Moses' Identity and Mystery Re-evaluated
Historians have wondered why Moses should left the Land of the Pharaohs without a trace. But do science of history take all its present knowledge into consideration? Dramatic finds seem to involve new, substantial evidence that can verify the presence of Moses in Egypt 3500 years ago. Improved reliability of dating techniques achieved from an astronomical method and new information decoded in the oldest star chart in the world, found in 1927 in secret burial facilities (near Luxor). Archaeology and ancient rabbinical texts point out Moses' identity as a high-ranking Egyptian leader among the Egyptian elite.
"... Danish author Ove von Spaeth appears to be one of Denmark's boldest scientists... He takes a distinctive approach as a historian. Von Spaeth fills the imagination of his readers with his discoveries about Moses ...(and) has prepared a brilliant, logical solution or true stroke of genius ...",
- F.J. Billeskov Jansen, Ph.D., Professor, of the University of Copenhagen, - Politiken

THE ENIGMATIC SON OF PHARAOH'S DAUGHTER - Assassinating Moses, vol. 2
- in Danish, 298 p., illustr., DKK 248,- ISBN 87-7876-195-6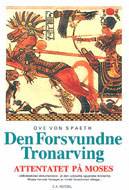 3) The Vanished Successor
Rediscovering Moses' Hidden War Leading to Exodus


Ancient texts reflect the fact that Moses was an expelled Egyptian prince who exploited to the full the historic tensions reigning in the Middle East in an enduring attempt to regain his claim to the throne of the pharaohs. A coup prevented Moses from assuming the throne of Egypt, a position for which - according to ancient Jewish texts, i.e. the rabbinical writings - he had been designated and educated. A number of sources assert that Moses in his exile was cleverly pulling political strings for a long time and, subsequently, started the great rebellion.
"... an impressive work, fascinating reading: interdisciplinary research into the historical Moses. ... critical expert theologians have felt enormously offended by the fact that a non-theologian dares to infringe on their territory and observes connections which are insignificant to them ...",
- Niels Aarup, M.A. (Theology), vicar, - Journal of the Vicars' Association

THE VANISHED SUCCESSOR - Assassinating Moses, vol. 3
- in Danish, 255 p., illustr., DKK 248,- ISBN 87-7876-259-6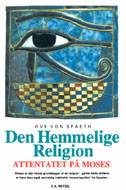 4) The Secret Religion
Moses and the Egyptian Heritage in Past and Present
Moses is the first known founder of a religion - and he have inspired several world religions. Old sources reveal that his teachings originally included the 'mystery gold' from Egypt and the secret of the name of God. - Exclusive, cultic knowledge from a mystical and cosmological superstructure of Moses' religion is still evident in the Bible - and with connections that it has not been possible to demonstrate till now. Down through the ages an initiated elite upheld these secret, partly Egyptian, teachings that had been passed on by Moses to the Israelites.
"... This is the book about Moses, truly a revolutionary work. - A stringent, disciplined work - and it reads like an exciting novel; an epoch-making interpretation! ...",
- Jes P. Asmussen, Ph.D. (Theology), Professor, of the Carsten Niebuhr Department of Near East Studies, University of Copenhagen

THE SECRET RELIGION - Assassinating Moses, vol. 4
- in Danish, 368 p., illustr., DKK 298,- ISBN 87-7876-240-1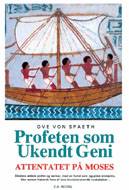 5) Prophet and Unknown Genius
Illuminating Moses the Advanced Pioneer
New knowledge about the very person behind the myth and influence still being of importance to our present culture. This book vitalizes unique materials of new discoveries and interesting finds, revealing new aspects of the enigma of Moses at important historical interrelationships. In addition it uncovers how Moses himself was connecting to a number of far-sighted and unusual achievements, which few know about today. These activities are referred to by rare sources in ancient history which greatly esteemed his versatile talents as a general and philosopher, also versed in astronomy, a mystic - and even a magician, healer and inventor.
"... a fascinating depiction of a person who lived on the boundary between history and prehistory - and who according to this congenial depiction created this boundary himself ...The sources are presented so the reader can span vast distances in time and space ... ",
- Leo Hjortsø, University lecturer in classic philology, of the University of Copenhagen

PROPHET AND UNKNOWN GENIUS - Assassinating Moses, vol. 5
- in Danish, 272 p., illustr., DKK 248,- ISBN 87-7876-393-2


C.A. Reitzel Publisher and Bookseller Ltd.
Norregade 20, DK-1165 Copenhagen K, Denmark

phone +45 33 12 24 00 - fax +45 33 14 02 70 - e-mail info@careitzel.com

Established 1819 - Soeren Kierkegaard and Hans Christian Andersen's
original publishing house - The oldest bookstore in Denmark



More info about the books:
www.moses.egypt.net

BOOKS - Moses & New Research: Descriptions, Reviews & Debate.

The fate and mystery of Moses is researched by Ove von Spaeth's
inter-scientific studies in Egyptology, ancient rabbinical writings, history of religion,
bible analysis, archaeology, - together with history of astronomy and, hereby,
disclosing a hitherto unknown message hidden in the world's oldest star map.